Bed & Breakfast
Fevery
In Brugge
Enjoy a romantic stay at Bariseele Suites in historic Bruges
We are looking forward to welcome you in our spacious rooms with romantic ambience and the amenities of a comfortable and luxury B&B with care for the environment. 
All suites have Auping sleeping comfort, a kitchenette, a private bathroom and the possibility for an offered breakfast in the room and with free Wi-Fi coverage in the whole building.  For your convenience, a private sauna is available and the cozy hotel salon is open to enjoy a Bruges beer.
During the season you can enjoy a bicycle ride along Bruges (and up to the sea coast).   We have rental bikes, but if you wish you can bring your own bicycle.  Private parking is available for your comfort en request.
Our rooms
Adult only B&B with 3 suites all en suite with private bathroom and full comfort.  
Breakfast made of local products and chocolate. Central and quiet location. Walking distance to all sights. Secured garage for (motor)bikes.
A private entrance will lead you towards the suites.
The B&B was the first in Bruges to Receive the ecological label 'Green Key'
Enjoy a romantic stay in Bruges
Bariseele is located in a quiet neighborhood in the Historic Centre next to the 14th Cent. St. Gillis Church, 150 m from the Grand Canal 'Lange Rei' and only a stroll from Market Square, the Chocolate Museum and the Lace Centre.
B&B Bariseele is located next to the 14th century St. Gillis Church
in the historical center, only 150m away from the Grand Canal Lange Rei
7 minutes to the Chocolate Museum
10 minutes to the Market Square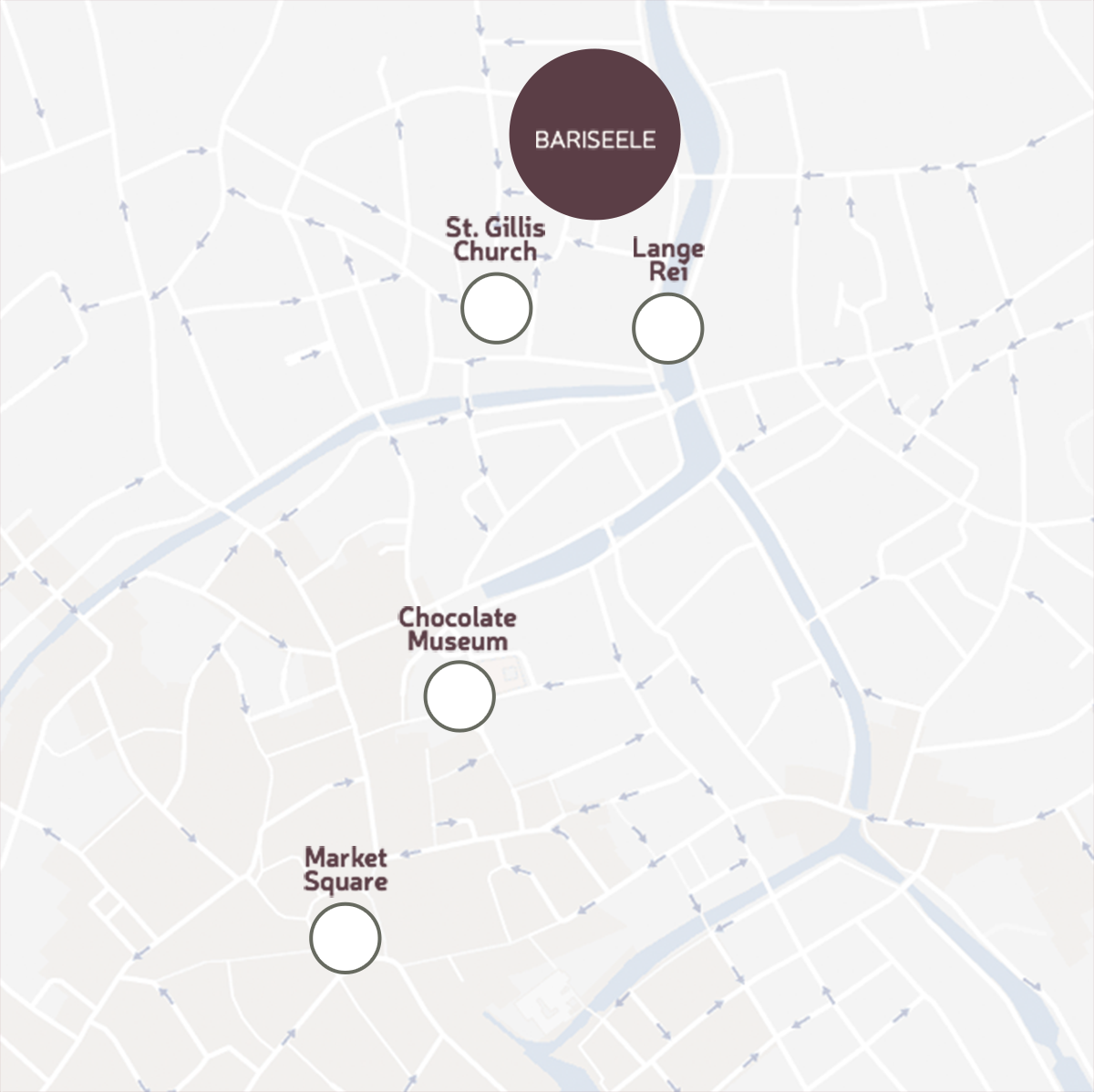 Quiet area and silenced hours
"Benny and Paul were very welcoming, the accommodation was excellent, with hallway, monsoon shower, and all mod cons as listed on the website. The breakfasts were superb and set us up for the day. We stayed in the room on the first floor with views of the church and quaint streets. Highly recommended."
September via TripAdvisor
Bariseele is wonderful, and Benny is even more so! I cannot recommend this place enough! Clean, well-appointed, luxurious, convenient, with fantastic breakfasts, and advice on what to do/see & where to eat from a Bruges local. Oh, and Bikes for rent! A+! We stayed on the top floor (Room with a view), and even though Bruges was in a heat wave at the time (90 degrees F!), we still stayed comfortable without AC due to the great cross-ventilation with screens (very important, as there were mosquitoes).